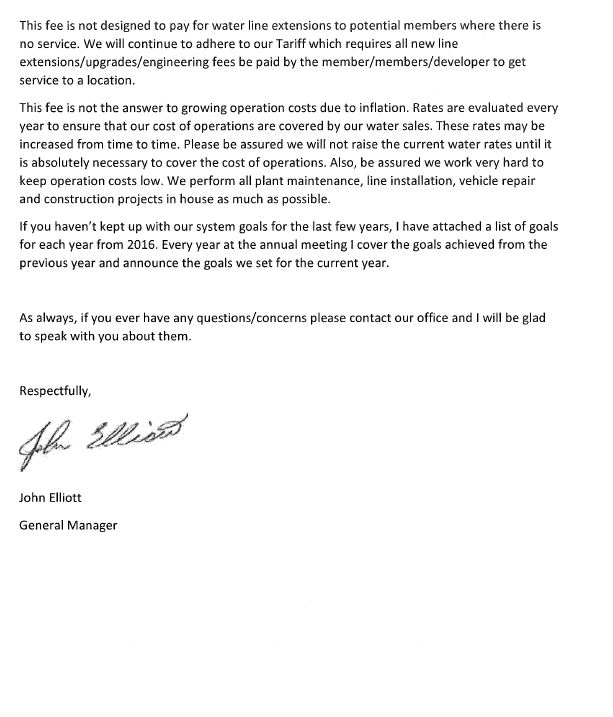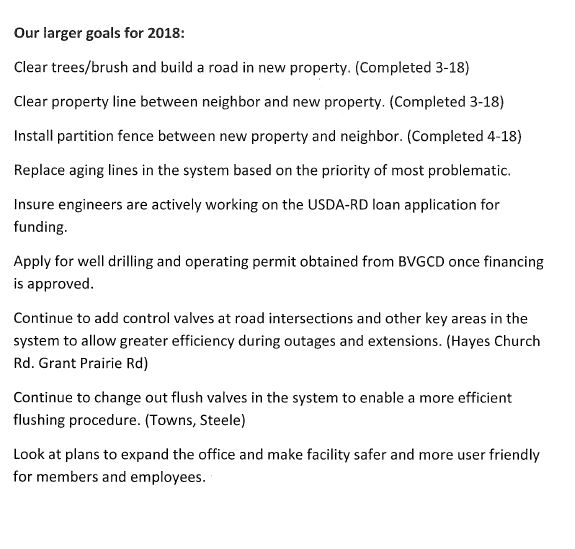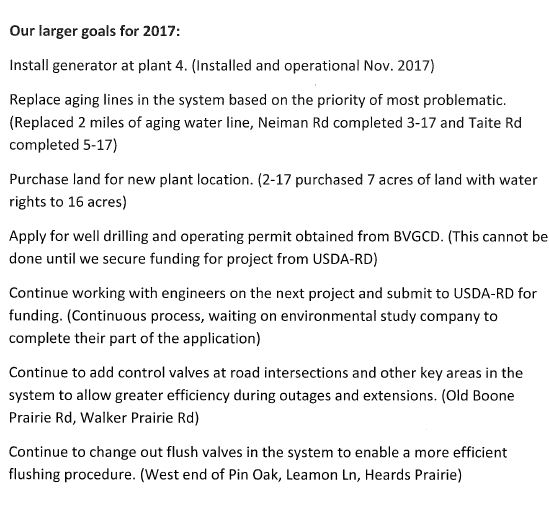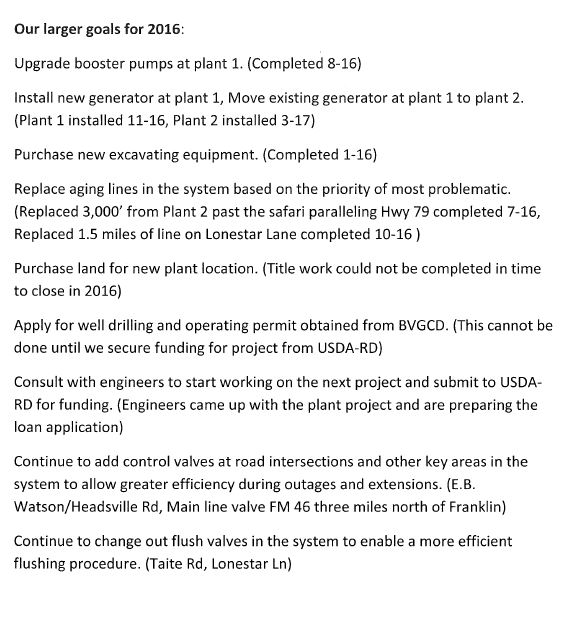 The main infrastructure of our system is very old. Our previous engineer only looked at our current needs and worked to accomplish those short term goals. This was a great disservice to our system. Over the years there have been upgrades and line size increases which were just getting us by. We switched engineering firms and started planning for the future. A 25 year plan was put in place.
A rate increase took effect in January. This is only the second increase in 15 years. The increase was $8.50 for the 2000 gallon minimum. The block rates also increased. After a thorough rate study and system evaluation our engineers suggested this rate increase to help cover upgrades that must be done in the near future. The board approved these suggestions.
The immediate projects in the plan are as follows:
Purchase New Excavating Equipment



Purchase new excavating equipment to allow for in-house line replacement and save the costs of contractors. We have several aging lines that need to be replaced to reduce service interruptions.

Hire another employee to help fulfill the labor demand to replace lines while maintaining current system labor requirements.

Increase Booster Pump Size



Increase booster pump size at plant 1 to get us back in compliance for booster pump gallons per minute per connection with TCEQ. This will also allow us to add connections to this plant which we are not able to add any at this time due to capacity requirements.

Replace Generator at Plant 1



Replace undersized backup generator at plant 1 with a larger one that is properly sized and will allow for future growth.

Place generator from plant 1 at plant 2 to provide backup power for this location.

Plant Modifications



Make plant modifications that ensure consistent system pressure instead of the current 20 psi pressure swing. This will stabilize the pressure in the system and keep it at one constant pressure.

New Plant



Purchase property for a new plant location.

Three-Year Goal



Get USDA-RD funding to build a new plant location.

Build new plant to allow for future growth and allow the retirement of an aging plant that has become obsolete and is not cost effective to upgrade.

Add backup generator to plant 4. This will ensure uninterrupted water service during power outages.

With this addition all of our plants will have back up power and will make our service more reliable.

Five-Year Goal



Install elevated storage tank (water tower) that is fed by the new plant. This will help conserve electricity costs as we do not have to pump the water to the system we only have to pump to the elevated storage tank and allow gravity to maintain system pressure. This tank will also be able to serve the entire system in the event of a catastrophic plant failure.

Ten-Year Goal



Install elevated storage at plant 1. This will help conserve electricity and will keep us in compliance with TCEQ for several years as far as capacity requirements. In turn we will save a lot of money and be able to apply this to line infrastructure.